I just stumbled upon a great free clipart site and I wanted to share it in case there were others who did not already know about it. It's called
My Cute Graphics
. The site contains free clip art images, backgrounds, clip art frames, and other fun stuff created by Laura Strickland.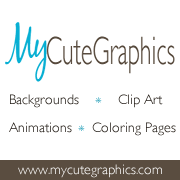 Here are a few cute samples of the clip art images you can find for free from the site. You can use the graphics on your blog, your website, and for items you post on Teachers Pay Teachers as long as you link back to the site using one of the text or image links that are found
here
on Laura's "Link Back to Us" page.
You can also visit Laura's
Whimsy-Clips
Teacher's Pay Teacher's Store for even more of her fun clip art images. All of her sets come with color and black and white images bundled together. Laura's stuff is so cute and she offers so many great free images that I can't believe I am just now finding her!