I have learned so much about teaching reading from Kimberly Gillow of
Funky First Grade Fun
and what I learned from her inspired me to read books about teaching reading all summer long. Recently Kimberly asked me to do a guest post on her blog and I was honored.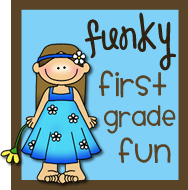 If you feel like you overuse the phrase "sound it out" with your little ones and you want to know more about other beginning prompts for young readers check out my guest post
here
. It is based on the book Catching Readers Before They Fall. I highly recommend this book to anyone who teaches reading.